Central Markets in Irkutsk and Bratsk
Last updated: 21.4.2002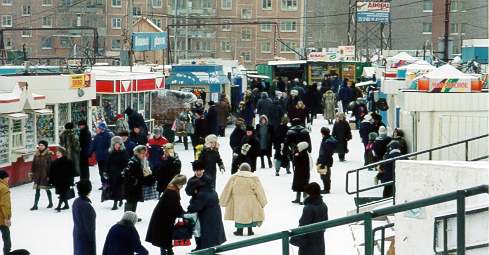 Outdoor stands in the vicinity of the Bratsk Central Market.
The temperature was below -25°C.
Dec. 5, 2001
The central covered markets provide a place mainly for local food producers to sell their products. I like their atmosphere and their colours. They can be found throughout Europe. The ones I saw recently in Siberia fascinated me even more by their contrast with the half-empty stores I saw in Moscow during my last previous trip to Russia in 1982.
The one in Irkutsk is a large rectangular building in the Market Square next to a large department store. The ground floor is divided into three big halls each reserved for different kinds of foodstuffs. A part of the building also has a second floor filled with rows of little shops selling all kinds of other goods.
The central market in Bratsk is a large circular building divided inside in a number of halls of various size.
In both places, even in the rather northern Bratsk, one can buy all the winter fresh vegetables locally grown in greenhouses. That is a better arrangement than we have in Canada where most vegetables are imported from California and may be treated with preservatives to survive the transportation, and where it is not possible to buy e.g. fresh green dill every day as it is in Bratsk.
In Bratsk, next to the covered market there was a rather large area with outdoor stands selling all kinds of clothes, shoes, books and other goods. All these stands were opened even at temperatures close to -30°C (-22°F)! In Irkutsk, outdoor markets were spread over various locations in the city centre.
---